新闻中心 News
Actualités
有 417 天s
[Net] - Creation of a net course at the Europe's first plant park.
Discover our new Net course at Terra Botanica
A Giant fairytale forest at 'Terra Botanica'?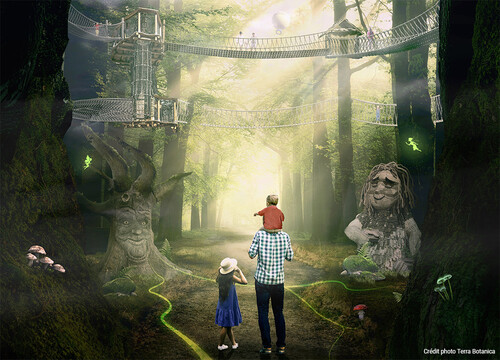 In February 2021, we built a new tree walk / fun project at 'Terra Botanica', the first botanical amusement park in Europe and ranked in the top 10 French theme parks with 350.000 visitors in 2019, located in Angers (France). We have created a new attraction area: "The Mysteries of the Forest".
It's a 1 hectare park with over 350m suspended boardwalk through the forest, including over 1850m² of net, 10km of rope, 5 bounce nets, over 20 suspended bridges and 17 viewing platforms / treehouses, 12.000 screws …
The visitors will enjoy:
- 2 different atmospheres with fun / playful areas and safety net rails to get an enjoyable relationship with heights,
- An educational course, on the ground where 3 wooden Giant sculptures create a fairy tale feeling for the greatest pleasure of all family!