Our news
Actualités
There is 71 days
[Playground] Rope course are coming to town !
These new type of playgrounds reinforce the freshness islands within cities by giving more value to existing green area.
Public playgrounds under a blazing sun, it is over !
We have installed the third rope course playground in Flers, a small French town in Normandy.
Two mini-tree climbing courses and a zipline have been installed in the park of the Castle. These courses are freely accessible and comply with the standards relating to collective playgrounds.
Enhancement of the plant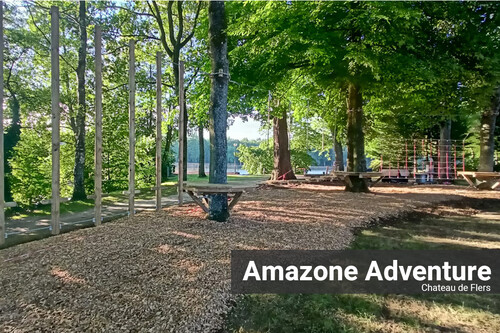 Taking support from existing trees, the games on offer are intended for children aged 4 to 14: footbridges, Tibetan bridges, climbing wall, nets to cross and even a zip line!
We have used a technology that favors the respect and growth of the tree. Wood chips have been placed on the ground to secure the games while respecting the natural area.
The municipal team added picnic tables to complete the equipment and provide parents and carers with a space to sit while watching the children.
Customization
In accordance with our desire to offer tailor-made solutions, the climbing wall has been fitted with a 'roof' taking up the visual codes of the castle (listed as a historical monument).
The integration of the project was subject to control by a national control body
Very positive reception from locals
The project led by an elected official, Angela PRESSE, received a very enthusiastic welcome from the inhabitants.
"Since the opening, it's been full. People are super happy. It seems that Flers is all about that! It's incredible. I see a lot of people in consultation who tell me that during the holidays they are going to go to the sea and the park (of the castle, editor's note) because they heard that there are games in the trees. Everyone is really delighted!"
(Angela PRESS, two weeks after opening)
At the dawn of the summer holidays, the project has really given a boost to the popularity of the town hall with a sustainable installation made for children.
They are talking about it :
Article Ouest France (French national newspaper) of July 17, 2023 : here
Our Kids course 
Our Parcours Kids 'Playground' offer offers courses for children with free access and without the supervision of an operator.
These installations are carried out in wooded areas in urban or non-urban areas. A few trees are enough to set up the course. All installations comply with NF EN 1176 standards.
Depending on your wishes and your budget, we work with you to define the most suitable project.