Wire rope
Our choice of wire rope for tree top adventure
All of our wire rope are galvanised steel.
Certificates of conformity are provided upon demand.
Our wire rope are delivered on circular reels to the length of your choice.
--
We offer the following choice :
Wire rope 7x19 galvanised steel in Ø10 or Ø12 mm
Non-rotating cable 19x7 galvanised steel in Ø12 mm: Ideal for ziplines or rolling game modules
Montoron cable 1x19 galvanised steel Ø12 mm: Ideal for the Saferoller continuous belay system
--
We can also provide you with all necessary cable and chain hardware.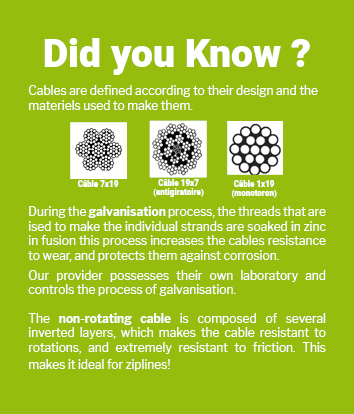 20_AmazoneAdventure_Catalogue_Produits.pdf[pdf] 8.12 Mo
---
Contact us !