Wood and Platform
Wooden tree platforms
We provide ready-to-build wooden tree platforms :
3 sizes available depending on the tree trunk diameter.
Easy to set up to save time in the construction.
Long life expectancy.
Low maintenance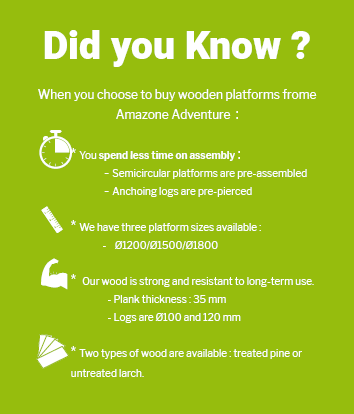 Wood parts
Ready-to-build games kits
We also provide ready-to-build games kits : swings, obstacles, footbridge, hanging trunks ....
Easy to set up and remove.
Various wood
Raw and manufactured wood :
logs,
planks,
wedges,
beams
...
Quotation on demand.
 and all of that in two species of wood ! 
Our complete catalog
Contact-us !