A Giant concept
A GIANT offer
Storytelling
You want to boost your image on social media,
You want to enhance your cultural heritage,
You are seeking an original and tailor-made project ?
Let's create your Giant wooden sculpture, made in Amazone Adventure workshops with sustainable and ecological materials.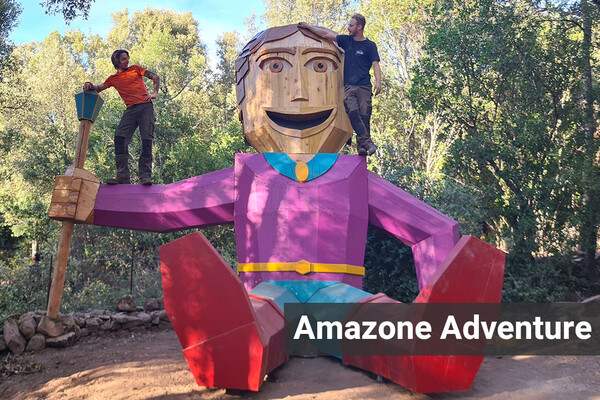 Your goals
Increase your notoriety: boost your likes and create the buzz on social networks thanks to creative and funny pictures
Give visitors a unique memory: attract an audience thanks an innovative, fun and original concept
Highlight a natural area less attractive: promote your local history and environment by telling an educational story
Affirm your identity: Giants show and support the Amusement park identity or increase your visibility
Wooden sculpture make by Amazone Adventure
MONT-DE-L'ENCLUS area Project (BELGIUM) - Liederick tales
Around the year 620, when King Dagobert reigned, the 'Prince of Salvaert' crossed the forest of 'Mont de l'Enclus'. He would have been attacked by Count Phinaert. The whole caravan is killed, except his wife who will escape and give birth of a little boy whom she will hide under a bush before being captured. The child will be taken in and brought up by 'Ermite' and gave him his name: Liedericq. He will be the founder of the cities of Lille (France) and Bruges (Belgium).
The 3 Giants Liedericq, l'Ermite and the 'Prince of Salvaert' are put along a walking path in the forest.
These 3 emblematic Belgian figures boost city tourism experience and enhance the forest walk.
More info: 
20_GiantWoodenSculpture_EN.pdf[pdf] 435.47 Ko
Contact-us !