Moutain Offer - Aillons-Margériaz Ski Resort
Moutain Offer - Aillons-Margériaz Ski Resort
Mountain offer : Aillons-Margériaz Ski resort project
The context
Mountain sports and recreational activities have become a must for outdoor activities. This business is facing new challenges, including global warming, which requires resorts to become attractive throughout the year.
In 2019, the Aillons-Margériaz resort launched a "four-season tourism" project. New innovative activities have been implemented to strengthen its tourist attractiveness and target a local family customers.
The adventure park Le Pays Suspendu des Géants is created. Located in the heart of the forest (the french Alps), this aerial leisure park without PPE is made up of bouncing nets, canopy walkway and playground.
The objectives
Our 'Mountain Offer' allows to meet various objectives:
Develop a touristic hub in line with the natural environment
Offer a new activity with low operating and maintenance costs
Offer a recreational and fun activity, suitable for all audiences
Make visitors aware of Nature in an educational and funny way​
The Amazone Adventure advices
To set up a similar project, Amazone Adventure provides differents advices:
Create an observation area immersed in the canopy with customized observation platforms & treehouses
Give visitors unique experience in the forest or above the water thanks to the ziplines course. (Allow to make ski lifts profitable)
Set up a space to take a break with suspended hammocks, and specific nets
Add a recreative area with playground and activities for children, without specific equipement
Make a thematic trail with giant wood sculptures several meters high. Boost your identity!
Other possible activities 
TUBING
Slide down the mountain! Our tubbing offer are tailor-made (stainless steel toboggan, sledge, ...). You optimize the use of your chairlifts and cable car.
CUSTOM-MADE FURNITURE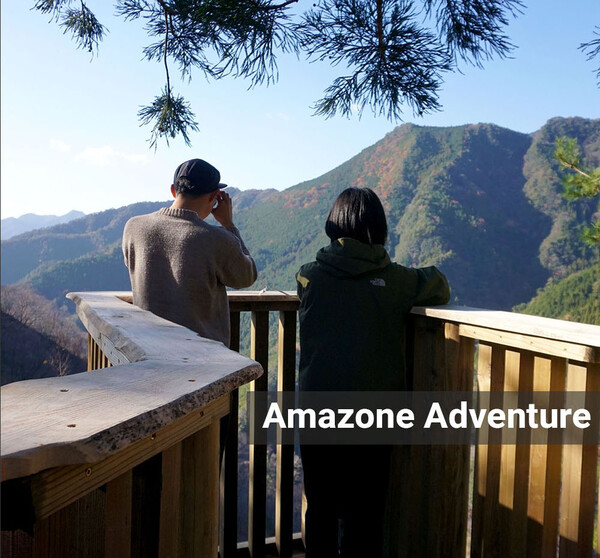 Enhance your site with tailor-made arrangements: furniture, suspended platforms, rest area ...
These new installations integrated into the natural site (trees, rocks ...) will stay top of mind with visitors.
KIDS COURSE
Discover a kids course project built in a Frecnh National Park :