Rope and net
Our nets
Crossing net, tarzan jump, net trails, chimney net : discover our range of products :
Our standards :
Polyamid net with node - 50 mm square mesh – white or colour - Width 50 cm / 2 m / 4.5 m. Length to your choice
Beige polypropylene net - 250 mm square mesh– Dimensions to your choice
Our customs :
No knot net
Giant, bounce, trampolin net, spider or fun box...
Chimney net and creels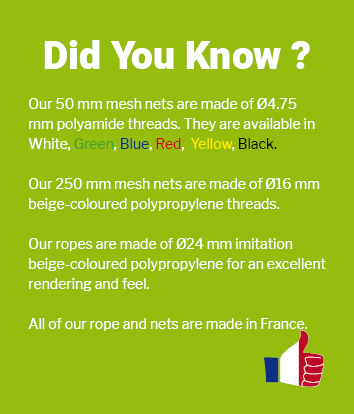 Looking for net course builder? 
Our ropes
Bridge ropes, tarzan rope, walking or snake rope : we produce depending your need !
Our standards : imitation hemp PP rope Ø24 mmm or Ø30 mm
1 ring + 1 reversed end / 1m50 long
2 rings / 2m or 5m long
Roll of rope Ø18 mm or Ø8 mm
Our customs :
Big diameter rope (Ø140 mm)
Wire fiber rope
Wire fiber rope
Do you feel like a splash of colour?
This is our selection of wire fiber rope :
diameter : 16 mm
Colors : beige, red, yellow, blue, black, green
Custom ending : Connector, ring, rope thimble, ...
Net custom assembly for you cheminey net
20_AmazoneAdventure_Catalogue_Produits.pdf[pdf] 8.12 Mo
20_Catalogue_Ateliers.pdf[pdf] 2.12 Mo