Our news
Actualités
There is 372 days
[Net] - A Japan Zen net course
Enjoy an aerial walk in the trees   
We have set up a new concept in Kuuchuu No Mura Park, located in the Totsukawa forest (Japan): Zen net course.
Visitors can enjoy a relaxing moment thanks to many customized areas:
Canopy net course
Viewing platform
Walking nets
Picnic area / bar stools
Reading / lecture / music area
Relaxation area (suspended hammocks, nest swing …)
A tailor-made course
This Zen net course has dual objective:
Offer an attractive activity for the adults. We built suspended footbridges to go to the treetops without physical difficulty
Make Totsukawa area more attractive for families with fun and new peaceful activites
A project rewarded 
The park was rewarded 2 times as it received the Second Prize on the Naja province and the national level during the "Undiscovered gems of Japan" in March 2021.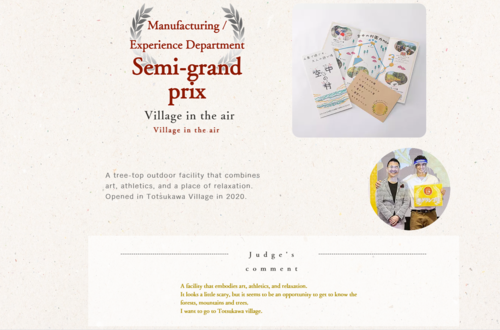 Satisfied customer
"On behalf of Totsukawa village office and its representatives we present you our sincere gratitude for this magnificient park in the trees that you have built for us."
Download our client's recommendations here
​For more information about Zen net course, click here