Our news
Actualités
There is 326 days
[Playground] A customized playground - Part 1
Amazone Adventure, mandated by the French municipality of Plouezec, intervened in 2022, for the creation of an atypical playground.
We have designed and built:
a kids rope course with free access and without safety equipment (harness, carabiner)
A pirate ship structure with slide, corsair net, footbridge, climbing wall...
a 30 m ground zipline
=> Focus on the rope course
A Public rope course
In 2021, Amazone Adventure took on a crazy challenge: create a ropes course without equipment and with free access.
In 2022, it's done!
This children course has been validated and certified in acoordance with the Playground standard EN NF 1176. It is therefore completely suitable for public use.
This course takes up the codes of the classic Rope Course : progression between the trees with games made up of ropes, cable and wood.
All the assemblies have been studied especially for this public use. We have optimized the safety of the installations, delete the jamming, reducing access to anchorages, and working on fall area. The games and platforms have been reinforced to support the weight and withstand the intensive use of the playground. The assemblies have all been validated by an independent control company. An engineering study with structural analysis was also carried out (dimensioning of the platforms, resistance of the cables and the apparatus).
Materials choice is also studied so as to reduce the risk of vandalism. Thus the wire fiber rope (synthetic rope reinforced with cable) was favored over classic rope.
A CUSTOM-MADE THEMED COURSE
The course was specially created for the Plouezec site.
The games are adapted to the configuration of the site and the location of the trees. No artificial pole was put in place.
It revolves around the Breton theme with:
A 'Gwenn Ha Du' climbing wall (Breton flag)
A Kid Tree House engraved with Breton symbols (Hermines, Triskell)
A footbridge forms 'Pirate'
Workshops with many marine-type ropes!
All these elements were imagined and produced in our workshop.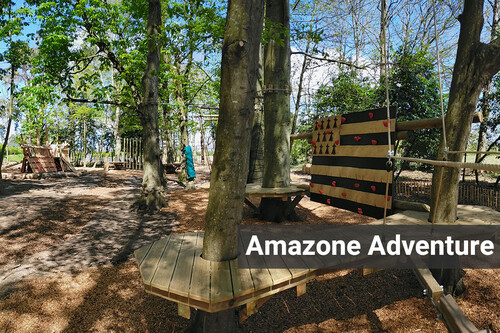 A tailor-made 'pirate ship' play structure has also been installed in the area. (Structure designed and produced by Amazone Adventure, see dedicated article)
A COURSE WITH A LOW ENVIRONMENTAL IMPACT
This course meets the requirement of the municipality to have a course with a low environmental impact.
The design of the course has been thought out in order to make the best use of the existing trees. We have set up 2 courses of 6 and 5 games without any artificial support and preserve all the trees (no cutting has been done). Several entrances and exits have been set up to optimize flows.
Our platforms are fixed using an innovative system that does not constrain the tree (no clamping) and thus lets the tree grow with less maintenance.
Finally, the ground is covered with wood shavings, a material that provides optimal safety in the event of a fall, and which also prevents the trampling of tree roots.
.