Our news
Actualités
There is 161 days
[Wooden Giant] - Liederick tales
3 Wooden Giants to enhance tourist appeale
With the aim of strengthening the tourist appeal of emblematic sites in Picardy Wallonia, the IDETA Territory Development Agency commissioned Amazone Adventure to design and build 3 Wooden Giants.
Installed around an artistic path in the municipal park of Mont de l'Enclus, they allow you to discover the legend of Liedericq.
Liederick's tale 
Around the year 620, when King Dagobert reigned, the 'Prince of Salvaert' crossed the forest of 'Mont de l'Enclus'. He would have been attacked by Count Phinaert. The whole caravan is killed, except his wife who will escape and give birth of a little boy whom she will hide under a bush before being captured. The child will be taken in and brought up by 'Ermite' and gave him his name: Liedericq. He will be the founder of the cities of Lille (France) and Bruges (Belgium).
Create originality to boost a territory
The Hermit - With his beard made of rope, the Hermit is 4m tall.
We have chosen to use natural and resistant materials. The colors with neutral shades, blend perfectly with the environment.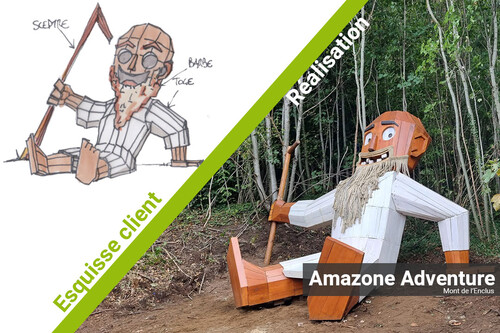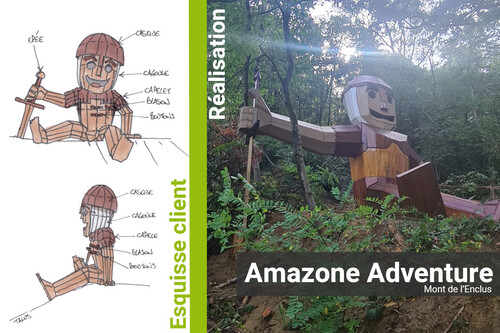 Liedericq - Armed with his sword, this Giant welcomes visitors and watches over the entrance to the trail.
Each giant was designed based on drawings provided by IDETA. We were keen to respect these sketches as faithfully as possible.
The Prince - This colossal structure is 6m tall!
We have selected Acacia for its durability and resistance.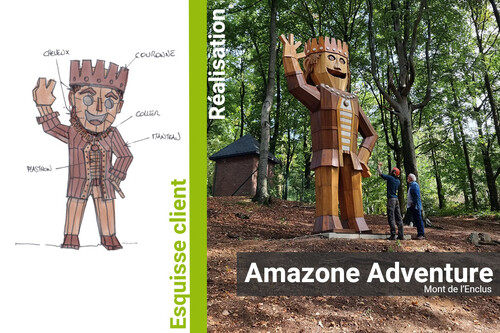 More information about the Wooden Giants :