Our news
Actualités
There is 575 days
[Playground] A customized playground - part 2
Amazone Adventure, mandated by the French municipality of Plouezec, intervened in 2022, for the creation of an atypical playground.
We have designed and built:
a kids rope course with free access and without safety equipment (harness, carabiner) - see dedicated article : A public rope course
A pirate ship structure with slide, corsair net, footbridge, climbing wall...
a 30 m ground zipline
=> Focus on the pirat ship game
A fun and original playground 
This pirate ship is specially designed to develop:
Children's imagination with a universal theme
Their motor skills (balance, coordination, etc.)
Their intellectual and social abilities (self-confidence, interaction with others, etc.)
The boat consists of several elements:
Slide: stainless steel slide, fireman's bar
Progress: 2 climbing walls, a corsair net, a Dogon ladder
Imagine: steering wheel, flags, windows, bow
A tailor-made kids game
The design was entirely carried out by the design office of Amazone Adventure.
We design the boat on 3D design software before producing it on our workshop and assembling it on site.
Safety, durability and funny interest were the key words for the design.
The structure fully complies with the Playground EN NF 1176 standard.
Each assembly has been sized, validated and checked.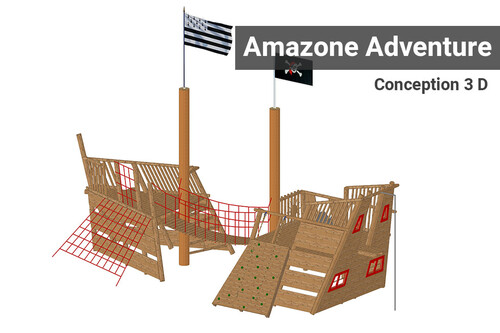 AN ECOLOGICAL AND SUSTAINABLE DESIGN
The boat is made of Robinia (false acacia), a durable and naturally rot-proof type of wood.
No treatment has been carried out on the wood.
Each element can be easily replaced in the event of deterioration.
The structure, which measures more than 10 m length, was assembled on site to minimize the transport impact.